There are a lot of wonderful ways you can use Adobe products in the classroom. Each month, we will update this page with ideas on how to incorporate Adobe into your class in conjunction with the monthly ISTE standard.
January 2022 Update = Learning Designer
---
Adobe Express is so versatile. Here is a great activity for a mid-year check-in with your students:
Creative challenge: Quick check-in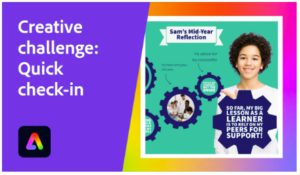 ---
Adobe's Creative Cloud is a collection of more than 20 apps like Photoshop, Premiere Pro, InDesign, Illustrator, Audition, and more. It is available to all Jordan District faculty, staff, and students in grades 7-12.
A great way to get started with Adobe Creative Cloud is by getting familiar with Adobe Express available to all students & teachers K-12. Check out our Express resources for more info!
---
Getting Started
 Log Into Adobe Creative Cloud
  Getting Started Teacher Guide
Learning Resources
  Adobe Education Exchange
   Adobe Creative Educator
Social Media-Creative Cloud
 Twitter
  Facebook
  Instagram
  YouTube
Questions? Contact me:
   Kiera Beddes
 (801)-567-8264