Go to the Canvas website
http://jsd.instructure.com
In the upper right corner, click on "Parent of a Canvas User? Click Here For an Account".
The Parent Signup panel will open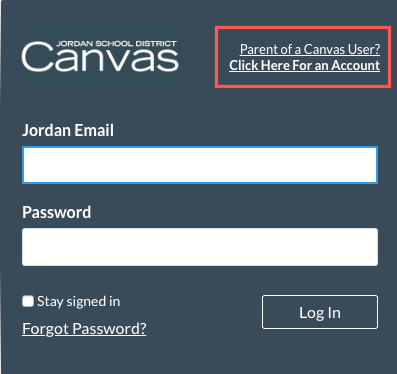 .
---
Enter the following information:
1. Enter your name in the "Your Name" field.
2. Enter your email in the "Your Email" field.
3. Enter your password in the "Password" field.
4. Re-enter your password in the "Re-enter Password" field.
5. Enter a pairing code to link your account to your student in the "Student Pairing Code" field.
6. Agree to the terms of use by clicking the "You agree to the terms of use checkbox".
7. Click the "Start Participating" button.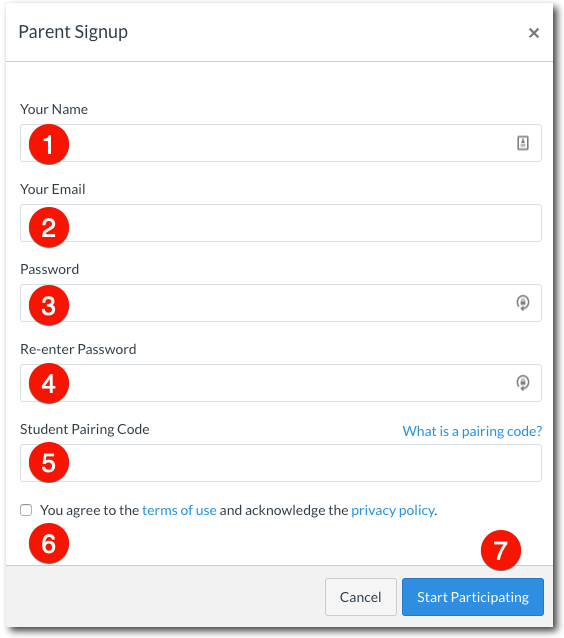 ---
Begin Observing
Your Dashboard opens. Your student's class(es) are visible. You may begin observing your student's work in Canvas by clicking on any of their classes.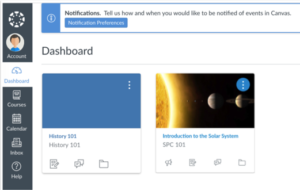 ---
To observe another student:
1. Click the "Account" link on the left panel.
2. Click the "Settings" link
3. Click the "Observing" link.
4. Enter the pairing code in the "Student Pairing Code" field.
5. Click the "Add Student" button
6. Click on the paired student to view their classes.