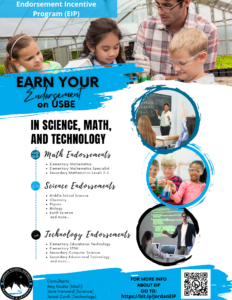 Are you interested in getting a STEM endorsement? Let US PAY FOR YOUR EDUCATION!
Eligible STEM Endorsements

ELEMENTARY ENDORSEMENTS:

SECONDARY ENDORSEMENTS:

Elementary Science (coming soon!) 

 

*Please note that the college coursework pathway for the Ed Tech Endorsement is the only one eligible for this program
A few important details:
Reimbursement for classes completed between July 1, 2022 and June 30, 2023
Register for and pay for the class
Pass the class with a C or higher
Complete an application for each class you take
Application requires an unofficial transcript & receipt
Submissions can be made now using this application link:
STEM EIP Application
Have additional questions? Review our FAQ Document.
STEM EIP FAQ
If your questions aren't answered, please reach out to your representative. We would love to talk to you! This is a GREAT opportunity!
Need help with EIP?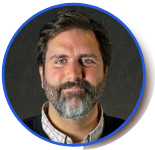 Jared Covili
Consultant for
Digital Teaching and Learning
jared.covili@jordandistrict.org
  801-567-8191